CMNH Invites Ohio Science Olympiad Teams in "Celebrating Women in Science"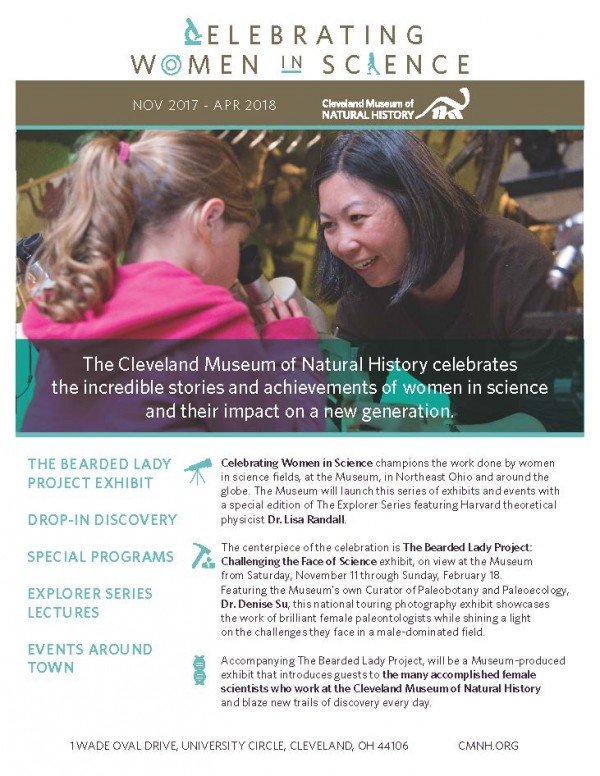 The Cleveland Museum of Natural History (CMNH) is inviting Ohio Science Olympiad teams to participate in "Celebrating Women in Science," a series of events from November 2017 through April 2018. 
"Celebrating Women in Science" champions the work done by women in science fields, at CMNH, in northeast Ohio, and around the globe. The museum will launch this series of exhibits and events, with a special edition of the Explorer Series featuring Harvard University theoretical physicist, Dr. Lisa Randall. 
At the center of the celebration is the "Bearded Lady Project: Challenging the Face of Science" exhibit, on view at the museum, Saturday, November 11 through Sunday, February 18. 
Some of the series' special programs include:
Women in Field Sciences Panel Discussion
Tuesday, January 23
6-9 p.m.
Exploring Osteology
Tuesday, January 30
7-8:30 p.m.
International Women and Girls in Science Day
Saturday, February 10
10 a.m. – 4 p.m.
Click here to download a PDF with more information.
Ohio Science Olympiad previously announced a partnership with CMNH, through which teams could request free tickets to three Explorer Series Events.