COLUMBUS , Ohio (Jun 27, 2023) — 
As a freshman in high school, Pranav Jois toured the State of Ohio Computer Center, which houses the Ohio Supercomputer Center's (OSC) high performance computing clusters, with his Science Olympiad team. At the time he felt the technology was "a little intimidating," he recalled, and "never in a million years" thought he would use it.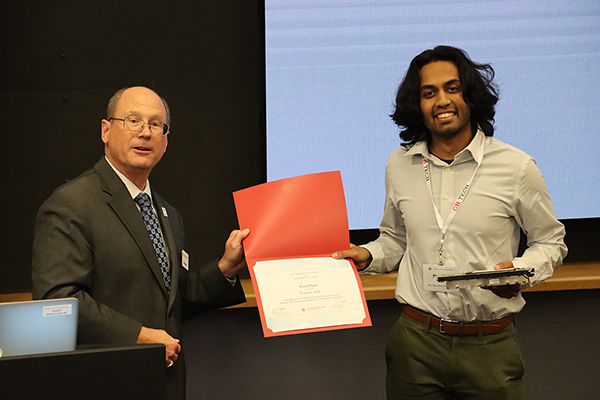 SUG Winner Pranav Jois (right) receives certificate from OSC Executive Director Dave Hudak (left) for best presentation at Fall Statewide Users Group Conference in 2022.
Now a third-year student in math and physics at The Ohio State University, Jois works on a research project in the William G. Lowrie Department of Chemical and Biomolecular Engineering. In this position, he has gained experience with OSC's resources and the world of supercomputing that he previously thought was beyond his reach.
Jois works with postdoctoral scholar Diego Becerra and advisor Lisa Hall, professor of chemical and biomolecular engineering at Ohio State, to research the different phases of liquid crystal polymers when exposed to various states such as high temperatures. Different formations of liquid crystal polymers can have various applications in science and engineering, such as the development of soft robotics.
"The work that we're doing deals with soft matter," Jois said. "In conventional rigid-body robots, metal rods are connected to motors. But it's also beneficial to have systems that lack those rigid parts inside them. Artificial muscles, for instance, would be able to contract and relax without any sort of rigid interior."
The project is funded by a grant from the American Chemical Society's Petroleum Research Fund.
For his work on the project, Jois utilized OSC to simulate the heating and cooling of liquid crystal polymer chains, observing changes to the structural ordering of the chains as they formed different patterns and shapes.
"As someone in math and physics, there's sort of this paradigm of doing stuff by hand, on pen and paper," Jois said. "But in reality, there are so many problems that are incredibly difficult to solve without some extremely heavy-duty computational resources."
Leveraging OSC's resources, Jois found that when the liquid crystal groups are attached to polymers in an end-on configuration, they form a stacked structure. Attaching the groups in a side-on configuration, in contrast, resulted in a honeycomb-like arrangement.
Jois presented his work in the flash talk exhibition at OSC's Statewide User Group (SUG) Meeting on Thursday, Oct. 27, 2022. His talk, "Coarse-grained modeling of side-chain liquid crystal polymers: effect of the architectural properties on phase behavior," detailed his research with Becerra and Hall and won best presentation.
Hall encouraged Jois to participate in the exhibition as an opportunity to share and discuss the team's research without traveling too far. She said it's beneficial to have undergraduate students involved in these meetings because it provides them with a snapshot of what a week-long scientific or professional conference may entail for them in the future.
As an undergraduate student, Jois said he is grateful for the opportunity to use OSC's high performance computational resources and intends to continue utilizing them in future projects.
"I do really love the opportunity I've had to use OSC's resources because it's helped me in my research," Jois said. "I think it will help me greatly in the future as well because I foresee supercomputing to be a large part of my life moving forward."