Mason High, Solon Middle Win 2018 Ohio Science Olympiad State Tournament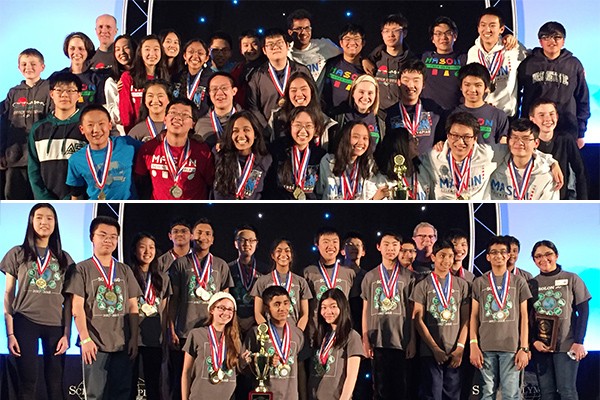 Mason High School and Solon Middle School topped stiff competition to win the 2018 Ohio Science Olympiad State Tournament on Saturday, April 28, at The Ohio State University.
Mason earned the title for Division C (grades 9-12), while Solon won Division B (grades 6-9). Both teams move on to represent the state in their respective divisions at the Science Olympiad National Tournament on May 18-19, at Colorado State University in Fort Collins, Colorado.
Ohio is one of a few states permitted to send two teams per division to compete on the national stage. Also heading to Colorado will be Solon High School (Division C) and Tower Heights Middle School (Division B), as both teams finished second in their respective divisions.
The top six teams can be found below, and the full list of tournament results can be found here.
Division C (Grades 9-12) Top Finishers
Mason High School*
Solon High School*
Mentor High School
Centerville High School
Westlake High School
Beachwood High School
Division B (Grades 6-9) Top Finishers
Solon Middle School*
Tower Heights Middle School*
Hadley E. Watts Middle School
Magsig Middle School
New Albany Middle School
Chardon Middle School
* - Competing team at the Science Olympiad national tournament, May 18-19.
Ohio Science Olympiad is the state's premier science competition that allows students in grades 6-12 to demonstrate their skills in the science, technology, engineering and math (STEM) disciplines. Teams compete in a series of 23 STEM-related events (such as Mousetrap Vehicle, Herpetology and Thermodynamics) that add up to an overall score.
In 2018, more than 4,900 students formed 331 teams to compete at regional tournaments to become one of 80 teams to advance to this weekend's state tournament.
Follow us on Twitter: @OHSciOly