Ohio State's College of Arts & Sciences to host Science Sundays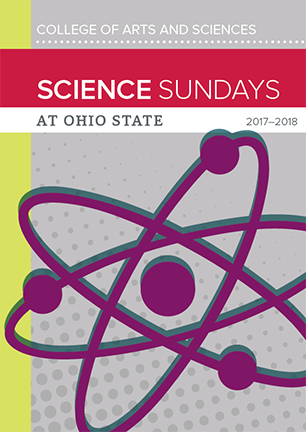 The Ohio State University's College of Arts & Science will be hosting Science Sundays, a free lecture series open to the public on a wide range of current and emerging topics and issues in science that touch our everyday lives.
Speakers are experts in their fields from Ohio State and around the world, with experience in making their topics interesting and accessible for audiences of all ages, with or without a science background.
The first of the lecture series is September 10, featuring Frederic Bertley, Ph.D., president and CEO, Center of Science and Industry (COSI). His topic is Paying Attention to the Importance of the Scientific Revolution Amid Cluelessness.
More information about Science Sundays can be found here.
General Event Information
Each lecture is followed by a free, informal reception.
Time 
Lecture: 3-4 p.m.
Reception: 4-5 p.m.
Lecture Venue 
All 2017-2018 lectures will be held in the Ohio Union's U.S. Bank Conference Theatre.
Reception Venue
All receptions will be hosted in the Ohio Staters Traditions Room, except January 21 reception, which will be held in the Ohio Union Interfaith Room.