Solon Middle School Wins its Division at the 34th Science Olympiad National Tournament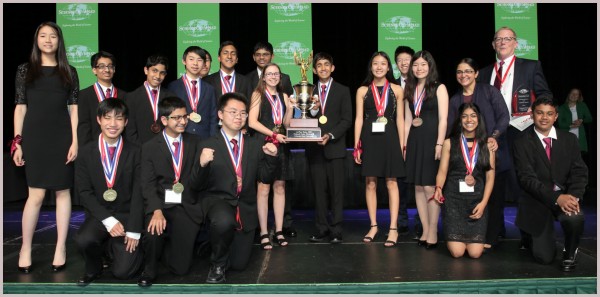 Solon Middle School can now call itself a national champion after winning Division B at the Science Olympiad National Tournament on Saturday, May 19, in Fort Collins, Colorado.
Solon Middle was one of two middle school teams to represent Ohio on the national stage and tallied 173 total team points. Tower Heights Middle School also competed at the national tournament, finishing 14th.
Ohio is one of a few states permitted to send two teams per division to compete on the national stage, and the Division C teams representing the Buckeye state also placed in the top five. Mason High School earned second place with 199 points, and Solon High School placed fourth with 229 points.
All four teams earned the right to travel to the national tournament back in April, when Mason High School and Solon Middle School earned state champion honors in Division C (grades 9-12) and Division B (grades 6-9), respectively.
The Science Olympiad National Tournament brings together 120 winning middle school and high school teams advancing from state-level competitions this spring. Science Olympiad is a national nonprofit organization whose mission is to improve the quality of science education, increase interest in science, attract more students to science careers, foster teamwork, emphasize the problem-solving aspects of science and develop a technologically literate workforce.
Ohio Science Olympiad is the state's premier science competition that allows students in grades 6-12 to demonstrate their skills in the science, technology, engineering and math (STEM) disciplines. Teams compete in a series of 23 STEM-related events that add up to an overall score.
This school year, more than 4,900 Ohio students formed 331 teams to compete at regional tournaments to become one of 80 teams to advance to the Ohio state tournament.